Latest News
Australia and Vanuatu share a long history of close cooperation and on Monday 25 June Prime Minister Salwai and Prime Minister Turnbull reinforced their commitment to this deep and enduring economic and security partnership. They agreed to commence negotiations on a Bilateral Security Treaty on common security interests, such as humanitarian assistance and disaster response, maritime surveillance and border security, police and defence cooperation...
Vanuatu's Prime Minister, Charlot Salwai, will visit Australia from 23 to 29 June. The visit will provide an opportunity for Australia and Vanuatu to enhance our strategic partnership and deepen our economic and security cooperation. Australia enjoys a close relationship with Vanuatu, with our two nations sharing strong economic, security and people to people links...
The Australian High Commission Vanuatu is cheering on the Socceroos in the FIFA World Cup 2018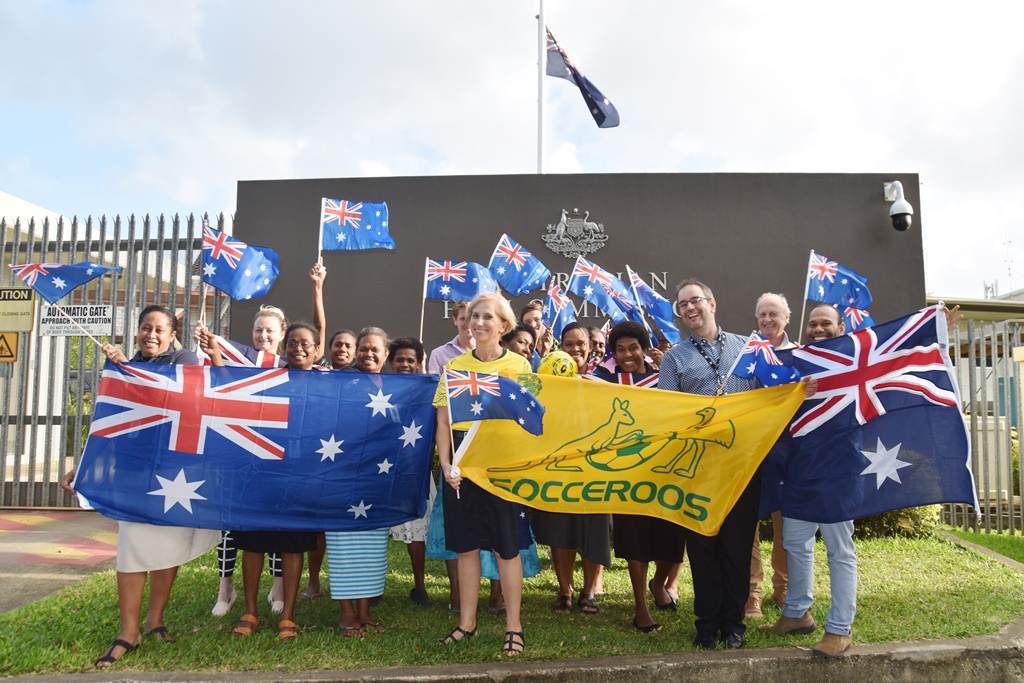 On Friday 8 June, the Australian Government announced that Joint Task Group Indo-Pacific Endeavour 18 would provide further assistance to support the Government of Vanuatu in response to the ongoing impact of volcanic activity on Ambae Island. Australia delivered emergency supplies to the National Disaster Management Office (NDMO) warehouse in Luganville to support those affected. The Australian Defence Force vessel HMAS Success delivered community tents, solar street lighting, solar lanterns for personal use, bed nets, jerry cans and water tanks. These supplies will help meet the immediate needs of people displaced by the volcano and their host communities. The Vanuatu Government, through the NDMO, will manage the distribution of supplies. Australia will continue to assist the distribution with funding and technical assistance...
On 3 May, Australia's Minister of Foreign Affairs, Julie Bishop, and Minister of International Development and the Pacific, Senator Concetta Fierravanti-Wells, announced an additional 24.4 million vatu ($300,000) in humanitarian assistance to support the Vanuatu Government respond to the situation on Ambae, bringing Australia's total assistance to date to 288 million vatu ($3.55 million)...
The Australian High Commission's Namatan Short Film Festival is officially closed for 2018! Short listed films will be screened in communities around the country. Winners will be announced at a Finale at the end of May 2018...
A new year and a new beginning, the Australian High Commission Port Vila is now on Twitter! Follow us on @AusHCVanuatu for the latest High Commission news and events.
2018 is a special year for Australia in Vanuatu. Forty years ago, on 28 January 1978, Australia first established an office in the (then) New Hebrides. The Australian High Commissioner, Jenny Da Rin, hosted an official reception at the Australian High Commission's Chancery on Thursday 25 January to celebrate Australia Day 2018 and the enduring bonds between our two countries over the last 40 years. With Vanuatu's Acting President, Hon Esmon Simon, as the guest of honour, and the Prime Minister, Hon Charlot Salwai Tabimasmas, the reception brought together Australians in Vanuatu, members of the Vanuatu Government, business, civil society and the diplomatic corps to reflect on Australia's success as a diverse, peaceful and vibrant country...
Notarial services and passport fees increased from January 2018 in line with the Consumer Price Index published by the Australian Bureau of Statistics.
The Australian Government has released a Foreign Policy White Paper to forge a path forward for Australia's overseas engagement in the next decade...