Alumni / Alumnus of the Year
The Australian High Commission in Vanuatu recognises and honours Australia Awards Scholarships and Australia Awards Pacific Scholarships alumni who have made an outstanding contribution to their profession, community and country through exemplary leadership, integrity and innovation.
The Australia Awards Vanuatu Alumnus of the Year Prize is the most distinguished honour given to alumni who have demonstrated achievements at a local, national or international level.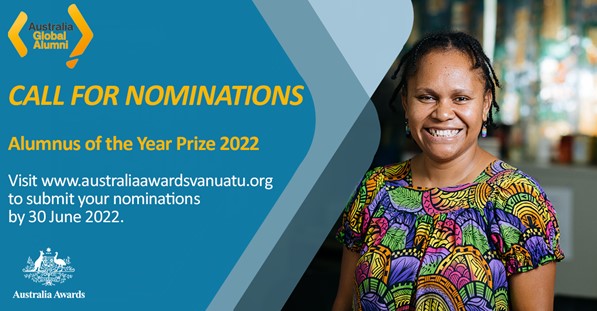 Who can apply?
The Alumni Awards are open to Vanuatu citizens who have graduated from a tertiary institution with the Government of Australia's long term scholarship program. This includes Australia Awards Scholarships, Australia Awards Pacific Scholarships and predecessor programs including Australian Development Scholarships and Colombo Plan.
How to apply?
Submit your nominations here by 30 June 2022. The Australian High Commission in Vanuatu and Australia Awards Vanuatu are committed to gender equality and social inclusion and supports applications for the Alumnus of the Year Prize from women, persons with disabilities and other individuals contributing to the diversity of Vanuatu society.
If you are an alumnus, you are encouraged to nominate yourself for the Alumnus of the Year Prize or you can nominate an alumnus who you think is deserving of the Prize. With your nomination, you can help recognise alumni who have attained distinguished career success and performed outstanding service to their community and Vanuatu.
For more information about how to apply, please visit www.australiaawardsvanuatu.org.