Latest News
The Australian Government's signature initiative to boost long-term economic growth in the Pacific region, the Australian Infrastructure Financing Facility for the Pacific (AIFFP), is now open for business.
Australia's Foreign Minister Senator the Hon Marise Payne said this $2 billion facility will support vital infrastructure projects to underpin sustainable economic growth in Pacific island countries and Timor‑Leste.
The Namatan Short Film Festival finale is set for Friday 5 July from 5 pm at
Saralana Park
! Pop the date in your diary and bring your family and friends for a fun evening watching
Vanuatu
short films "under the stars" with free live music from
Island Soul
. Food, drinks and kava will also be available for purchase. The
Namatan
Short Film Festival is proudly presented by the Australian High Commission and generously supported by the
VBTC
,
ANZ Vanuatu
,
Digicel
and
Air Vanuatu.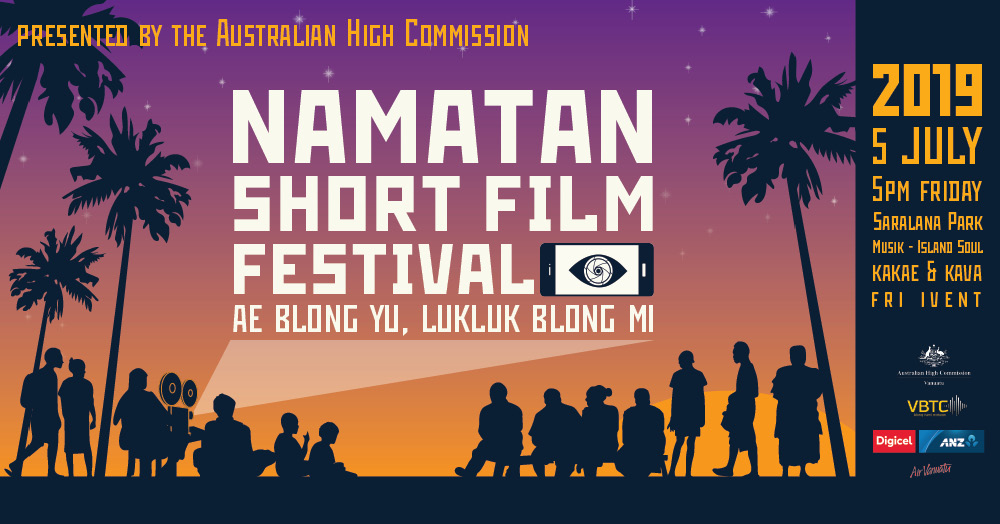 The 2019-20 Budget continues the Morrison Government's commitment to advancing Australia's national interests by protecting our security and prosperity and providing more opportunities for Australian exporters in an increasingly contested and competitive world.

The Morrison Government is deepening its engagement with partners and allies across the Indo-Pacific region, including through our signature Pacific Step-Up which is taking our relationship with our Pacific neighbours to new levels.
The Prime Ministers of Australia and Vanuatu have today reaffirmed the strong, enduring and multifaceted relationship between our countries. This relationship is based on common values, shared aspirations, respect and friendship, and our shared interest in the peace and prosperity of our home, the Pacific.
The Australian Prime Minister's historic and first official visit to Vanuatu reinforces the importance of this relationship for both our countries, following on from the Prime Minister of Vanuatu's official visit to Australia in June last year.
On 1 November, Prime Minister Scott Morrison told the Asia Briefing Live that the Pacific is one of his highest foreign policy priorities, because the Pacific is where we live and Pacific Island Countries are our family. Prime Minister Morrison wants to see Australia's relationships in the Pacific rise to a new level of respect, partnership, familiarity and appreciation. Australia will take steps with Vanuatu to further strengthen our partnership, including on security.
On 19 September 2018, the Minister of Education and Training, Jean Pierre Nirua, Parliamentary Secretaries, Johnny Koanapo Rasu and Tomker Netvunei, and Australia's Chargée d'affaires, Susan Ryle officially launched ten classrooms, two offices and one library in four primary schools on Erromango including in Dillons Bay Port Melo, Ivu Alam and Port Narvin.
Vanuatu has joined Samoa and Solomon Islands to become the next group of countries to join Australia's Pacific Labour Scheme. Vanuatu signed the agreement with Australia in the margins of the 49th Pacific Islands Forum in Nauru, paving the way for ni-Vanuatu workers to undertake non-seasonal work in rural and regional Australia. The new labour mobility scheme is an integral part of Australia's efforts to promote greater economic cooperation with the Pacific.
Australia has welcomed Vanuatu and Samoa into Australia's Pacific Medicines Testing Program, following the signing of agreements in the margins of the 49th Pacific Islands Forum in Nauru. The agreement enables Vanuatu to have up to five medicines including commonly used antibiotics and medicines to treat non-communicable diseases tested each year, at no cost, in Australia's world-class testing facilities at the Therapeutic Goods Administration.
On Friday 8 June, the Australian Government announced that Joint Task Group Indo-Pacific Endeavour 18 would provide further assistance to support the Government of Vanuatu in response to the ongoing impact of volcanic activity on Ambae Island. Australia delivered emergency supplies to the National Disaster Management Office (NDMO) warehouse in Luganville to support those affected. The Australian Defence Force vessel HMAS Success delivered community tents, solar street lighting, solar lanterns for personal use, bed nets, jerry cans and water tanks. These supplies will help meet the immediate needs of people displaced by the volcano and their host communities. The Vanuatu Government, through the NDMO, will manage the distribution of supplies. Australia will continue to assist the distribution with funding and technical assistance...
2018 is a special year for Australia in Vanuatu. Forty years ago, on 28 January 1978, Australia first established an office in the (then) New Hebrides. The Australian High Commissioner, Jenny Da Rin, hosted an official reception at the Australian High Commission's Chancery on Thursday 25 January to celebrate Australia Day 2018 and the enduring bonds between our two countries over the last 40 years. With Vanuatu's Acting President, Hon Esmon Simon, as the guest of honour, and the Prime Minister, Hon Charlot Salwai Tabimasmas, the reception brought together Australians in Vanuatu, members of the Vanuatu Government, business, civil society and the diplomatic corps to reflect on Australia's success as a diverse, peaceful and vibrant country...
Notarial services and passport fees increased from January 2018 in line with the Consumer Price Index published by the Australian Bureau of Statistics.
The Australian Government has released a Foreign Policy White Paper to forge a path forward for Australia's overseas engagement in the next decade...